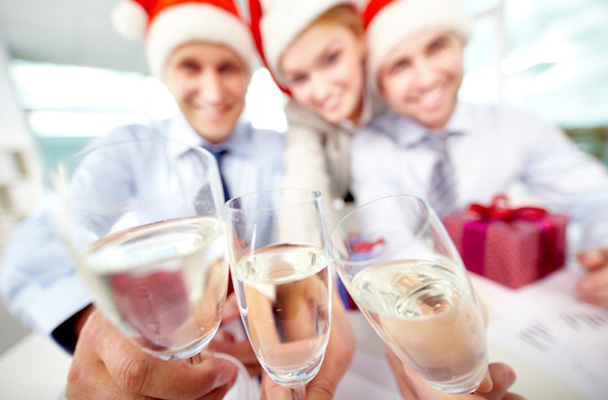 It's that time of year again….the season for office parties, family gatherings and taking stock in how far you've come in the last year and where you want to go in the year ahead.
If you're on the job hunt, you may think the holidays are a time to take a break from your search, but the reality is the holidays can offer the best networking opportunities so don't say no to any invitations! If you're at party being thrown by a family member or friend, everyone there is a warm lead or connection that has a point of commonality with you…they either know the host or are there with someone who does. You've got a great conversation starter right there. With 60-80% of all job offers resulting from personal and professional networking, the next few weeks may keep you as busy as one of Santa's elves.
Here are 5 holiday networking tips to help you stay focused over the next few weeks.
1. The Rules are the Rules:
Remember that holiday networking isn't really any different than regular networking. The same rules apply. Be interested in others, ask lots of questions to build rapport. Your goal here is to broaden your network, not get a job offer before dessert.
2. Sip it Slowly:
Whether it's an office party or a friend's gathering, watch your alcohol intake. It's great to get in the holiday spirit with your inner circle but if you're potentially trying to broaden your network, take it easy. Sure, you might make some new friends… but if you're potentially planning on asking one of them to leverage their professional reputation on a recommendation; I'm not sure they'd be willing to do it for the gal/guy who could barely stand at the end of the night.
3. Leave Your Cards Behind:
Networking isn't about how many business cards you hand out. It's about how many people you can build rapport with. Especially at a holiday party, don't rush to get rid of cards but rather focus on connecting with people. If you want to share contact information, put their email or phone number directly into your phone. Or, better yet, get their info from the host afterwards and shoot them an email them a few days later. This is a great way to keep the conversation going. "Hey Sally, I got your information from Jim. I had a great time speaking with you at his holiday party. Your dog photos are so cute I'd love to get the name of the shelter you rescued him from. I'd also love to pick your brain about a job-related question. Let me know when you have time for a brief call."
4. Reach Out and Reconnect: The holidays are a great time to reconnect either with old friends and acquaintances, former employers and colleagues or yes…even people you interviewed with over the past year that you really enjoyed meeting but didn't get an offer from. Sending a small card, wishing them well and letting them know of your continued interest may be the thing that gets you called in again when another opening comes up.
5. The Company You Keep:
Your current company's holiday party may be the best place to rub elbows with those in upper management that you rarely have access to. If you've never met the CEO or a VP in person, this is as good a time as any to introduce yourself, let them know what you like about the organization and establish a connection with someone who could potentially become your mentor. Again, just build some rapport so that in February, when you have a big idea or strategy you want to explore, you can send someone at the top an email to see if they would be willing to hear your ideas. Bridge the gap between yourself and top level management and you'll be climbing that proverbial ladder in no time.
Happy Holidays!