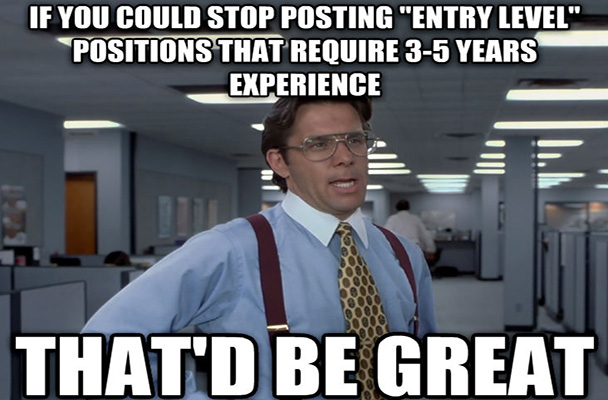 All over Reddit, 9GAG and multiple other meme boards, young job seekers are asking themselves this question: If you need experience to get a job, but you need a job to get experience, then how do you get the experience to get the job?
It's easy to feel a little jaded when that super cool company you really want to work for requires 1 – 3 years of relevant experience just to answer the phones. You're trying to get your foot in the door, but it may seem like you're caught between your inexperience on the one hand, and your ambition on the other.
Try to relax! The job seeking process is stressful enough. There are ways to nurture your ambition and develop your career outside of searching the traditional job boards.
Here are four simple things you can do to help navigate the "Entry Level Experience."
Create Your Own Opportunities for Experience
Treat everything like it's the job you wish you had. At volunteer events and community obligations, operate in a way that accentuates your real passion and competency.
You've got a data entry job at a packaging plant? Try writing some free copy about their services! Work for a dog-walking chain? Offer to spruce up their social media!
People say, "dress for the job you want." Work like the professional you are.
Network Like Nobody's Business
You've probably heard this more times than you know, but ask yourself: Did you enjoy the conversations you had? Did you go beyond the networks of your parents, relatives and friends? If you've answered 'no' to either of these questions, then give it another shot.
There are professionals everywhere who enjoy talking about their field to up-and-comers who are truly interested. Prioritize connections with people that actually interest you, in fields that you truly care about.
Never underestimate the power of a shared connection, be it an alma mater or simply a shared interest.
Play The Long Game
How many years do you think your career will span? How many decades? From day one of job-searching, it's easy for young job seekers to feel pressured by the culture of upward mobility and industry success.
But remember: Landing that perfect job before you hit 27 is the career equivalent to getting drafted into the NBA right out of high school, which literally isn't a practice anymore.
And why should it be? Getting the right job on the first try doesn't automatically mean a successful career, just like the NBA has high school draftees you've never heard of. At the end of the day, you still have to do the work.
Work Temp Assignments with a Good Staffing Agency
Having another revenue stream is just one of the many bonuses you get from temping with a good staffing agency. A solid agency will actually read your resume, listen to your job-searching habits and help you articulate and fashion your own goals and strategies.
A good staffing agency will place you consistently and strategically on temporary assignments, which will give you the platform you need to showcase your unique abilities. Finally, when you've earned your stripes, a good staffing agency will market your personality and skill-set to the kind of company that you want to work for.
Do great work, stay true to yourself and express honesty to the people around you. Breathe, be patient and nothing will stand in your way.
– Guest Contributor, Michael Schwab