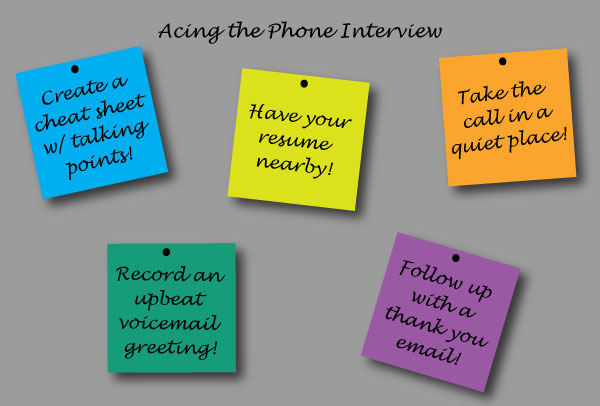 Whether you have time to prepare in advance, or find yourself fielding a follow-up call from an online application, a phone interview can be difficult to navigate.  The phone may provide some comfort, but it could also be doing you a disservice.  A phone interview, as opposed to an in-person interview, can make it much harder to connect and leave a lasting impression.  Here are 4 tips that will help you navigate the call.
First impressions matter…
Your phone greeting will be the first impression the caller has of you and your personality.  During a job search, pay particular attention to how you answer the phone.  Restricted numbers don't always equal unwanted callers and many companies will purposely block their number from a caller ID.  All recruiters and hiring managers have experienced the suspicious or defensive "hello," which melts away to a sweeter tone once the caller identifies themselves as a potential employer.  Regardless of how great the call may have ended up being, that first impression is rarely forgotten.  If you're not sure who is calling, screen the call and allow it to go to voicemail so you don't get stuck talking to a telemarketer.  *Hot tip: Don't forget that your voicemail greeting should always be clear, upbeat and professional!
The caller is not a fact checker…
The purpose of the phone interview is not to fact check what's on your resume, but to make a calculated decision on you as a candidate without meeting you in person.  The interviewer will decide where you rank with other applicants and whether or not they want to meet you in person.  You must be engaging, be dynamic and try to build rapport as best you can over the phone.  Your answers should be just as complete as they would be in person, and your enthusiasm must be apparent.  Have you ever had a conversation with someone and thought, "Wow if that's how they sound over the phone, I wonder what they're like in person?"  That can happen in a positive or negative way.  It's like dating, you have an awkward phone call, conversation doesn't flow easily and you're already not looking forward to that date.  Maybe you'll even cancel it.  After a great conversation, where you feel you're on the same page and you've made a connection, you can't wait to see them in person.  Right?  You get it.
Don't lose focus…
Getting too comfortable behind a phone is dangerous!  Don't be tempted to lounge on your couch or walk aimlessly around your home, opening and closing your fridge or even turning on the sink to get a glass of water.  It's easy to get distracted, you may even think to yourself, "Hey it's just a phone interview, they won't know if I am in my pj's with a bowl of ice cream, right?"  Wrong!  You should be dressed as though you are going to an in-person meeting and have your resume in hand.  Additionally, make sure you have easy access to any interview prep cheat sheets you've created for yourself.
Follow up…
The phone interview is a real interview.  After the call, thank the interviewer for their time with an email expressing your interest, conveying that you've done additional research and are further intrigued by the company and the position at hand, due to reasons x y and/or z.
– Michele Mavi