In line with compensation, a company's employee benefits package is a key component to staying competitive in a candidate-driven job market. Job seekers are looking for complete job satisfaction. But in order to meet this expectation, companies have to offer more. More than just the right position at the right time. More than just the right pay or perks. As the unemployment rate continues to decrease and economy improves, it's important for organizations to leverage employee benefits to attract and retain top talent.
In a recent study, the Society for Human Resource Management (SHRM) found that 34% of organizations increased benefits offerings in the last 12 months. How do you think your employee benefits stack up?
Trending Benefits
After reviewing SHRM's 2018 Employee Benefits: The Evolution of Benefits survey, Atrium outlined the top trending employee benefits for 2018: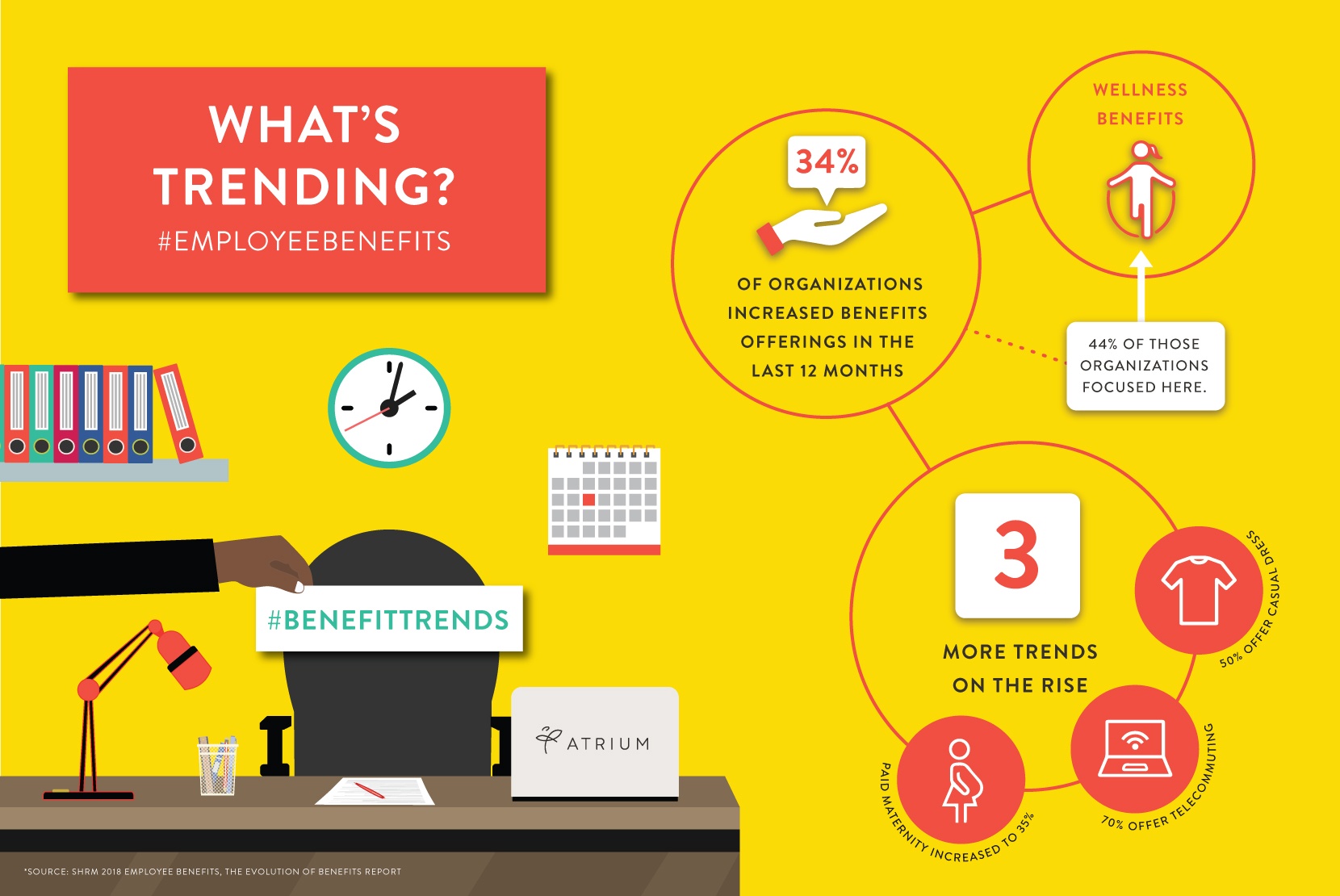 Additional Trends:
– Of organizations that increased benefits offerings in the last 12 months, 44% increased their wellness benefits.

– Paid maternity leave, which includes coverage by family or parental leave policies but excludes leave covered by short-term disability or state law, increased from 26% in 2016 to 35% in 2018.

– 70% of organizations offer some type of telecommuting, either on a full-time, a part-time and/or an ad-hoc basis.

– One-half (50%) of organizations reported allowing casual dress every day.

– 45% of organizations offered cross-training to develop skills not directly related to the job.

– Several five-year upward trends were found for employee programs and services: Kitchenette (95%), free coffee (81%), snacks + beverages (32%), company paraphernalia (69%), company outings (67%)
For access to a more detailed report, click here.
Did you know that before mandated by the government, Atrium offered benefits to our Temporary Associates? Learn more about our founding Applicant-Centric philosophy here.