The year 2016 wasn't without its challenges for the Human Resources industry, from navigating a candidate driven-market, preparing for pending overtime rules (just to have them delayed), to complying with new regulations on paid family sick leave.
With workplace reform sure to follow a change of hands in the White House, 2017 is shaping up to be one of transformation. Ready or not, 2017 is here and as the workforce continues to evolve, there is no better time than now to look at what is to come this year.
Here are the top 3 trends to watch in HR:
Data & Analytics
People analytics are no longer confined to marketing and finance divisions, as HR organizations continue to see success in evaluating workforce metrics to better understand their talent pool. With off-the-shelf access to integrated technology systems and a proven connection between people-related decisions and overall business ROI, more and more companies are building out their HR teams to make progress in this new business space.
From who we hire and promote, to how much we pay and spend on training, factual data expands our understanding in all areas of HR. Interpreting people analytics offers insights into skills gaps, retention trends and cost/benefits of internal programs. Technology today offers predictability, allowing HR to do what-if scenario planning, resulting in more informed business decisions and improved performance management.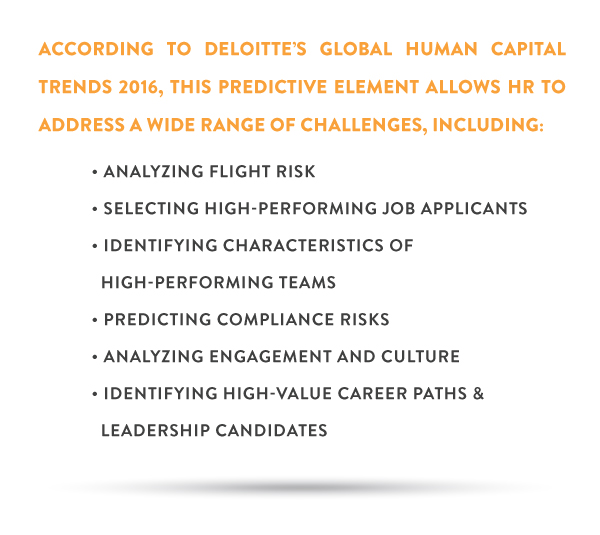 Talent Development
The days of the linear career are over, as our workforce is moving towards more individualized paths. Employees are hungry for technical and soft skill development, and while compensation, benefit packages and additional perks remain vital in attracting job seekers, opportunities for growth are key to on-going engagement.
Offering mentorships, internal programs and external professional development opportunities will keep you competitive in hiring and retaining top talent. However, HR investments in talent development must be aligned with overall business goals and a part of the strategy formation from the very beginning in order to be effective.
Take note from companies like Google and American Express, who year after year make the top 10 on lists like Business Insider's "50 Best Places to Work" and Workforce.com's "Workforce 100: Ranking the World's Top Companies for HR" – and for good reason. A quick visit to their websites will show a commonality in their holistic approach to employee growth.
Labor Law Compliance
The classification of Independent Contractors and W-2 employees was a hot topic in 2016 and will continue to be as the government further enhances worker rights and labor laws. The Freelance Isn't Free Act, passing unanimously in NYC, is seeing traction nationwide, as lawmakers push for protections for Independent Contractors, including the right to receive a written contract, to be paid timely and in full, and to be free from retaliation.
Household names such as Amazon and Uber faced litigation in 2016, bringing compliance risk for businesses to the forefront. As the contingent workforce grows (now making up 35% of the workforce), HR professionals must ensure their on-demand talent is properly managed and compliant amidst the developing legal landscape.
Learn how your business can mitigate risk from Work Market, a leading freelance management system vendor.
Subscribe now to Atrium's newsletter to remain up-to-date.