I'm debating between two good job offers.  I'm thankful to be in a position to choose, but how do I know which is the right choice? – Elaina D.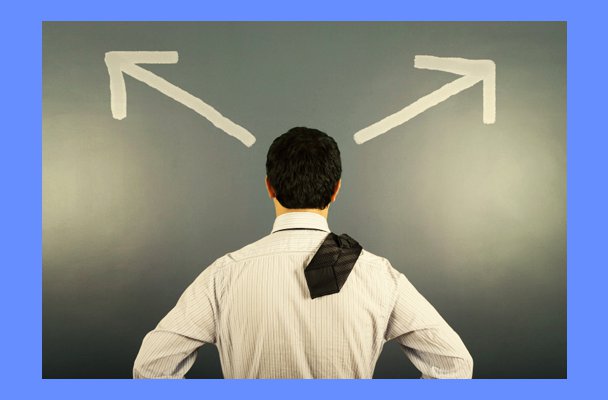 Congratulations, Elaina.  What a great position to be in.  It's tough enough to get one job offer these days!
So how do you make the right choice with confidence and without regret?  Most career coaches will ensure that you make the best choice by holding you accountable to your own wants and desires and by questioning you when you seem to be straying off the path you've envisioned for yourself.
A job will offer you a paycheck.  The right job will perfectly balance your skills and values.  Usually, when you're unhappy in your job it's because you feel you aren't utilizing the skills you want to be using or that your job isn't aligned with the values that are most important to you. Your seesaw is unbalanced and there doesn't seem to be a way of gaining the balance back, so you search.
You've surfed the job boards, submitted your resume, networked and had recruiters working on your behalf.  You're in line to get offers from two different companies and think you'd be just as happy with one over the other.  Really?  Finding one job that meets all your needs is hard enough, but two?  Either your ruling planet is in your 10th house of career and professional destiny or you haven't evaluated the situation carefully enough.
You'll want to make a list of your top 5-7 skills and 5-7 values (see samples below). Once you've jotted down your top skills and values, you'll make a basic pro and con list for each job opportunity.  Instead of using pro and con, you'll use the words aligned and not aligned.
It'll look something like this…
You'll then distribute your top skills and values between the 2 columns for each opportunity.  Upon analyzing the results, you may realize that the job you were leaning towards isn't really aligned with your other skills and values and the position you were less interested in, might be a better fit after all.
Things like social pressures and status can cloud your judgment on what will truly make you happy in the workplace.  That's not to say I'm discounting status or ambition as a value.  You can add Status, Advancement and Comfortable Income to your list of values above.  Allow this exercise to help you get very specific and take the emotion out of decision making. You might be surprised at the outcome!