The unemployment rate in the U.S. has fallen to 4.1 percent, a 16-year low. As a result, businesses are experiencing a talent shortage in an increasingly competitive environment. This macroeconomic trend supports the need to understand the impact of employee turnover, especially as we continue to see a candidate-driven job market.
How Much Does Employee Turnover Cost?
Reports on the cost of employee turnover vary. Studies reveal estimates anywhere from 30% of an annual salary for entry-level jobs to 213% for highly skilled positions. Regardless of the role, the cost of turnover is high. Companies are losing time, productivity and revenue.
Most companies today are tracking their annual turnover percentage rate. However, the cost attributed to that rate is often overlooked. The Huffington Post outlined what goes into the cost of turnover including hiring, onboarding, training, learning, development and time with an unfilled role. Though it isn't comprehensive, their formula below can provide a ballpark number:

Why Do Employees Leave?
Before we address employee retention, we have to analyze why they leave in the first place. The Work Institute's 2017 Retention Report uncovers the top 10 reasons why employees leave their jobs. There is good news, though. Employers could have prevented over 75% of these.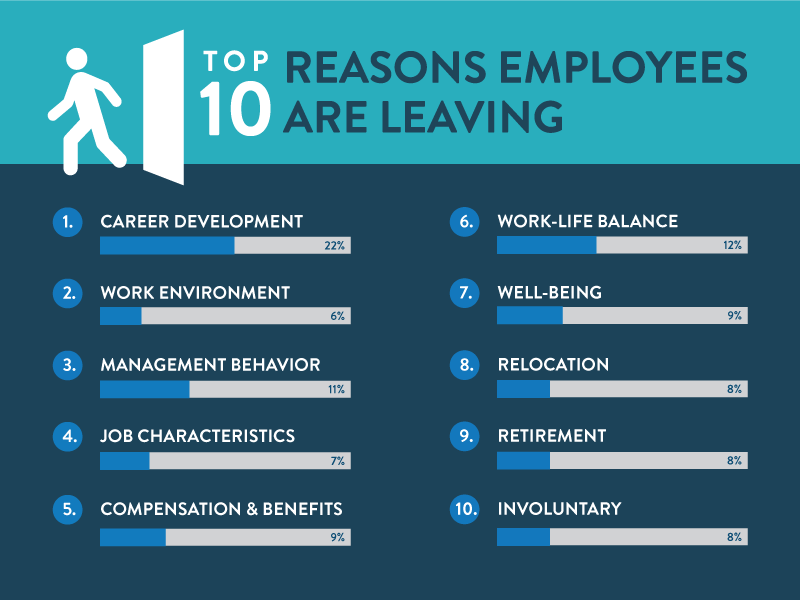 How Do You Increase Retention?
The Work Institute found that the most preventable reasons for leaving were related to modifiable conditions. Using opportunities like exit interviews and satisfaction surveys to gather feedback helps keep a pulse on how your company is doing. This invaluable insight into culture, leadership, teams and positions will make all the difference. It's important to keep in mind that because every company is unique, relying on benchmarking alone isn't effective when it comes to retention strategies. By evaluating this internal data, companies can make more accurate hiring decisions and retention initiatives, ultimately yielding positive change.