After more than a year's time spent feeling stagnant through the pandemic, you might be inclined to let freedom ring a little louder than normal this 4th of July. Well, before you start partying like the future of talent acquisition depends on it, I need to tell you something. It does! Right now, work culture and employee retention strategies matter more than ever. Employees who experienced freedom from corporate offices and policies during the pandemic are rejecting the notion to return to "business as usual." In fact, more than half of the labor force is ready to turnover. Welcome to the Yolo Economy. The ideological shift is calling for an HRrevolution. Right or wrong, we'd be wise to listen.
A timely call-to-action, "We the People" of the workforce are declaring their grievances against their kings. The causes which impel them to separation: flexibility, individualism and autonomy. The growing desire for Corporate Liberation leaves many leaders asking, "what can we do?" Believe it or not, the ideals of employees and employers may not be as far apart as they seem. You see, business philosophy, management theory, and the U.S. Constitution all share a common theme. It's a simple framework with a common goal to build productive communities. And with governance that fosters unity, fairness, safety, and prosperity, you can cultivate employee happiness, naturally. So, instead of serving-up employee turnover at the company picnic, take a page from America's cookbook!
This Tried and True Recipe for Happiness Has Only 4 Basic Ingredients: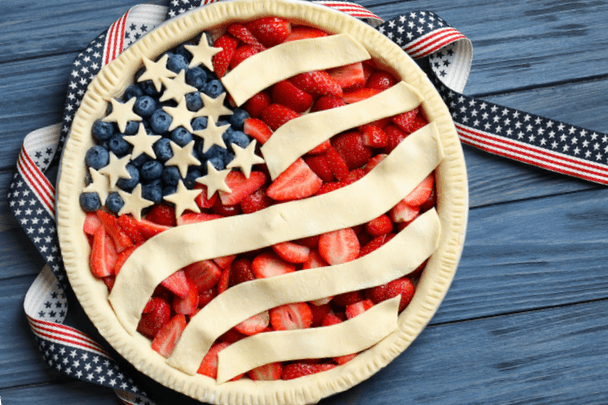 1. Work-Life Balance
Dearly beloved, we are gathered here today to get through this thing called life. Prince encourages us to get through it, and the Declaration of Independence proclaims it's our unalienable right. Indeed, life is a gift! Work on the other hand, is becoming more of a means to an end for our undervalued workforce. A more perfect union is essential to your employee retention strategies. So, how do we marry the two?
While you may offer benefits to employees, chances are they're not the generous packages The Silent & Great Generations once knew. If the days of lavish company perks, pension plans, retiree healthcare and above-average pay raises are truly gone, then so is the long-term loyalty that resulted from them. Life, at home or at work, requires health and safety. Our Work should benefit our life, not the other way around. So, let's start there. What can we, as employers, do to promote health and safety?
We hold these truths to be self-evident: basic paid time off policies and healthcare plans aren't enough.
Workplace wellness programsare designed to help people feel better. So, make sure you approach wellness comprehensively. Viability, at work or at home, relies on good mental, physical, and financial health. Therefore, they must be the pillars of your workplace.
In our current state, we're experiencing a particularly challenging time with these three areas of our lives. As a result, employees are paying close attention to employer benefits. If you don't offer a strong healthcare plan, or mental health is not a component of it, you can attract and retain more talent by changing that.
With trendy perks like Unlimited PTO, office snacks, and gym memberships replacing generous bonuses and/or supplementing average salaries, it's critical to acknowledge the financial stressors affecting the people in your workforce. Without a company-paid trip or cash incentives, is anyone even taking PTO? If not, your employee retention strategies need to restore the balance between work and life. Don't forget, we spend a lot of our lives working. So, try to help employees make up for lost time. To truly effect safety and happiness, employers must provide people the resources they need to enjoy life. 
2. Freedom to Choose
There are a lot of ways your employee retention strategies can keep people happy in their roles. However, the most effective tactics employ freedom of choice. I mean, who doesn't appreciate having the power to make your own determinations?  Management styles that offer flexible schedules motivate employees. Doctor appointments, sick days, and caregiving responsibilities take time away from work, but they don't give employees the reprieve paid time off should offer. Compassionate leadership requires wiggle-room.
We hold these truths to be self-evident: Inclusion means liberty and justice for all.
Beyond the empowerment and self-expression flexibility promotes, it also enables you to address individual needs. Reevaluate your policies and survey employees to see if your benefits are reaching everyone you intend to support.  To truly benefit the entirety of your workforce, policies must be inclusive. If paid family and medical leave policies don't accommodate all of the caregivers in your workforce, perhaps we can more justly qualify the word, "family." Policies that support adoption, foster care and the LGBTQ+ community can more fully benefit your community. 
LinkedIn reports a 56% lower attrition rate for companies with highly-rated compensation and personalized benefits packages. Your company perks must speak to the diverse demographics of your talent pool (today's and tomorrow's). Let's face it. While child care or pet perks are vital to some, they are not valuable to all. Right now, it's fairly common to have employees from four or five generations working side-by-side. Whether or not your workforce is multigenerational today, millennials are projected to comprise 70% of the workforce by 2025. That's a big number! So, it's critical your employee retention strategies specifically address this generation's needs.
We hold these truths to be self-evident: Outcomes are more favorable, when you give people the power to choose.
Ask your staff what resources are needed. When people have the opportunity to identify what works best for them, they are inevitably more fulfilled by the outcomes. You might be surprised to learn that a monthly student loan payment is a significant stress factor for some of your employees. If it sounds like a personal problem, it is. However, it's also your problem if you want to inspire engagement and productivity. You can personalize your employer-employee relationship when you help solve a personal problem. So, think about how you can do that.
Older millennials who began their careers amid the Great Recession continue to face financial, mental and emotional challenges, with even more economic uncertainty brought on by the pandemic. In fact, recent surveys indicate those between ages 33-40 are choosing not to start a family. To attract and retain the talents of this particular group promote generous salaries, sign-on bonuses and comprehensive (mental/physical/financial) wellbeing plans. If child care is a company perk you boast, offer financial alternatives. While cost savings from underutilized benefits may make some CFOs happy, to "We the People" of the workforce, it feels like being underpaid. When you short-change employees, they're more likely to leave.
Some company benefits include financial planning. Others are willing to pay down debts or compensate employees for unused benefits. However you do it, just do it. Solving specific pain points for your employees, makes their work experiences more meaningful. That inspires loyalty. Survey your talent pool to understand if housing/moving costs, childcare, doctor visits or other commitments are burdening them. Then, create employee retention strategies that offer solutions. Whatever incentives you develop, give your employees options. That way, the choice is theirs!
3. Career Fulfillment
Work is a major determinant when qualifying happiness. In positive psychology, the scientific study of what makes life most worth living, work is secondary only to personal relationships in determining an individual's perception of their quality of life. So, if long commutes, windowless workspaces, loud, cramped or otherwise uninspiring office settings are part of your work culture, it's time for a happiness overhaul. If you don't have the budget for an office renovation, incorporating flexible work options can add value to your employee retention strategies and your bottom line.
We hold these truths to be self evident: Psychological safety is an absolute within employee retention strategies.
While it's true that an individual's experience is determined by the context of the culture, value systems and standards of their environment, remote opportunities don't always result in employee bliss. Even though remote work enables a self-governing work environment, employers are still in control of employees' goals, expectations of their work, and standards of conduct. Much like any other environment, a virtual setting isn't going to guarantee your remote worker won't experience workplace toxicity. Psychological safety is an absolute for any viable employee retention strategy.
Despite our digital gains, gainful employment seems as if it's just out of reach. But it doesn't have to be. Gainful employment is a necessary component of living a fulfilled life and has a significant impact on our personal identities, social support, purpose, and challenges. It's is not a phrase to be taken lightly. And "We the People" of the workforce don't think the key to happiness belongs in the hands of our employer. Rather than asking leaders to understand the individual psyches of diverse groups of people, throughout different stages of life, why don't we consider giving employees autonomy to do the work they think matters most?
We hold these truths to be self-evident: Talent potential is as vital to your workforce as career potential is to the people who power it.
Beyond the benefits of work flexibility, employees are motivated by possibility. When it comes to the pursuit of work, an occupation must offer a balance of power to assure the path to life, liberty, and happiness is clear of weeds and obstructions. "To pursue," connotes action. More often than not, we are humans doing rather than being. Meaning that whether we are moving toward a personal or professional goal, our minds and spirits are always seeking progression. Therefore, career planning is essential to your employee retention strategy.
Ultimately, if an employee's long-term objectives don't align with their career trajectory within your organization, you're going to lose them. Make sure they have control over their career and its direction. As a guide, you can help them navigate the possibilities. The more open conversations you have with your team around their career aspirations, the better understanding you have of each individual and their goals. Take a page out of Verizon's employee retention strategies and create a program as unique as the talents within it. 
"Verizon introduces Talent GPS — to empower our V Teamers to own and drive their careers. Talent GPS will offer visibility into other jobs within Verizon and the possibilities within reach based on the skills and competencies needed to succeed in those roles."
Development is not just important for employees. Business needs "We the People" of the workforce to develop, too!  When leaders are willing to relinquish control, Employee engagement improves. If you haven't heard of Job Crafting, it illustrates how cognitive, relational and task crafting benefit leaders and their teams. Organizations who offer personal and professional development plans are winning the hearts and minds of top talent. 
4. A More Perfect Union
Politics, in its simplest form, is a question of Who Gets What, When and How. Bartering for power is a game most people want to avoid at work. Management that resembles elitism is not well-received by the workforce majority. Even with the best intentions, exclusive leadership creates divisiveness and demotivates employees. So, regardless of job function, level or status,  make sure you hear every voice. Attrition rates rise when people don't think their opinions matters.
We hold these truths to be self-evident: Government of the people, by the people, for the people, shall not perish but prosper.
This year, in particular, has given us a lot to ponder in terms of liberty and justice for all. Much like the American people power government, the actual force within a workforce is its people. Yet, more often than not, people are given very little control over their input and output at work. The result is unhappiness. Organizational effectiveness calls for checks and balances. Whether a business in pursuit of profit or a person in pursuit of life, individualism and choice are key to free systemsand economies. 
With the help of surveys, steering committees, and focus groups, you can better inform business decisions. By leveraging a variety of channels and integrating feedback loops within your employee retention strategies, you can achieve greater employee satisfaction. When organizational structure meets the needs of its people, business results simply improve. It starts by being inclusive. Flexibility, autonomy, and individualism promote a sense of belonging for all. That's the kind of work culture that keeps your people happily engaged in their work. 
Now, go fourth this July, and celebrate #IndependenceDay your way!