JOB REPORT
In Q3, the unemployment rate hit a 50-year-record-low dropping to 3.5%. The last time the U.S. saw a number this low was in 1969! There are differing opinions on how this economic data may change throughout the fourth quarter and what the job landscape will look like as we enter 2020.
Combining stats from the Bureau of Labor Statistics' monthly Employment Situation Report with data from LinkedIn's Workforce Report, our Q3 2019 Job Report infographic provides you with a quick summary of Q3.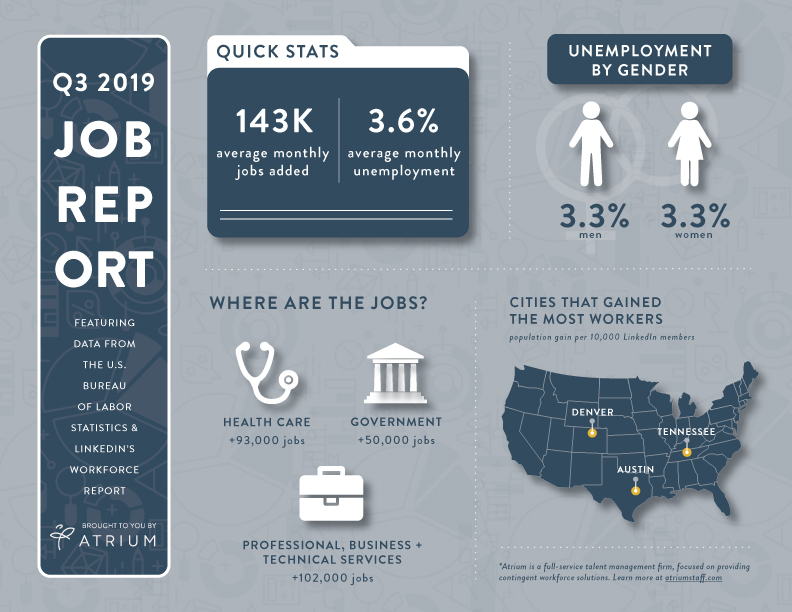 Click here for an enlarged version of the infographic.
LEGAL UPDATES
Below is a round-up of the top workforce and labor related legal updates that occurred within Q3:
July 2019: California Becomes First State to Ban Discrimination Against Natural Hair Styles in the Workplace 
The bill expands protection against discrimination and workplace bans for all natural hairstyles, defining this as a type of racial discrimination. While similar bans have been passed in New York City this year, this new California law is setting a precedent on the national level.
August 2019: Labor Department Confirms Certain School Meetings are FMLA-Protected
The U.S. Department of Labor (DOL) issued an opinion letter confirming parents are entitled to take time off under FMLA to attend special education meetings for children with serious health conditions.  The DOL explained that the need to attend Individualized Education Program (IEP) meetings does, in fact, qualify as a reason for an employee to take intermittent leave.
Septempber 2019: NYC Extends Human Rights Law to Freelancers with Protections Against Discrimination + Harassment
This new legislation will allow freelancers and independent contractors to file a complaint with the New York City Commission on Human Rights regarding experiences with harassment and discrimination in the workplace. A big win for the growing community of gig-economy workers!
---
SUMMARY OF Q3 JOB REPORT:
Average Monthly Jobs Added: 143,000
Average Monthly Unemployment: 3.6%
UNEMPLOYMENT BY GENDER:
Male: 3.3%
Female: 3.3%
WHERE ARE THE JOBS?:
Professional, Business and Technical Services: +102,000 jobs
Healthcare: +93,000 jobs
Government: +50,000 jobs
CITIES THAT GAINED THE MOST WORKERS:
Austin, TX
Denver, CO
Nashville, TN