Who doesn't like a compliment? Especially from a coworker or boss, hearing kind words about a job well done can go a long way. In the workplace, compliments for coworkers can play an essential role in establishing team rapport. With the ever-growing list of national holidays, #SaySomethingNice Day is one that I can totally get behind. It has always boggled my mind that humans tend to focus on the negative. Negativity bias is a real thing. While adverse experiences certainly have a lasting impact, I'd make the argument that the power of a compliment is equally as influential. Giving a meaningful compliment is a true sign of leadership. It sets an example that others are likely to follow.
Today, many workforces are operating in a remote capacity. If they aren't currently, they likely were at some point over the last year-and-a-half. When working from home, there are fewer organic moments for casual conversations, including compliments. In fact,  collaboration and mental wellness are notable challenges for newly remote organizations. Creating a supportive environment and fostering team cohesion can ultimately lead to a more productive team. For a business, this means better outcomes. So, if you'd like to contribute to overall healthy mental habits, make compliments for coworkers a daily practice.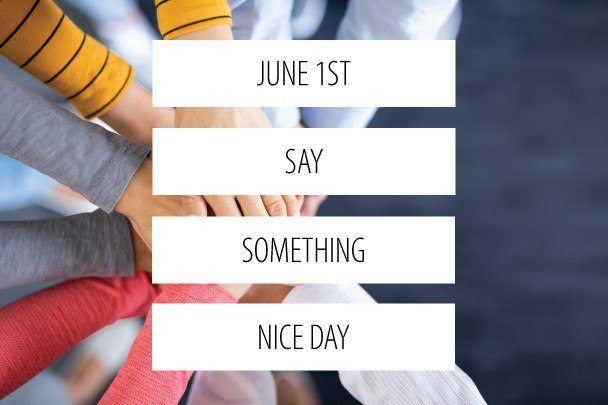 June 1st happens to be #SaySomethingNiceDay. So, who are you going to share a genuine compliment with today? They may be working remotely 5 states away, but trust me, the smallest words of kindness can have a huge impact on someone's day.
To get you started, here's a quick and easy list of 3 great compliments for coworkers:
1. Recognize an accomplishment.
Know a teammate or coworker that has recently met a significant goal or completed a huge project? Take a moment right now to craft a short message – or better yet, go 'old school' and pick up the phone and call! The simple act of remarking on their hard work is a great way to make an impact.
2. Compliment a personality trait.
I don't know about you, but I am so grateful for the variety of personalities that make up my team. While one person's approach likely isn't the same as another's – diversity brings growth. Whether it's their smiley disposition that greets you every morning on the other side of the camera and has a positive effect on your day, or their ability to always give candid, constructive feedback that often results in a better final product, complimenting a personality trait is a thoughtful way to spread kindness today, and always.
3. Acknowledge their importance
It sounds so simple, and it is. Sometimes just taking a moment to say, "I couldn't have done it without you" or "I'm so grateful for the role you play on our team" is all that it takes. Whether they are a permanent member of the team, or an independent contractor helping out, it's equally important to make them feel valued.
Now off you go! Spread the word on this #SaySomethingNice Day and be the positive change you want to see.