For many employees, November marks the kick off of open enrollment for 2022, meaning that the window of opportunity to select or change your insurance policy will be open. For many of us who have little experience choosing or changing our insurance policies, understanding health insurance options can be a daunting task. Fear not – we've created an easy-to-follow guide to help you feel prepped and ready to make an educated choice this enrollment season.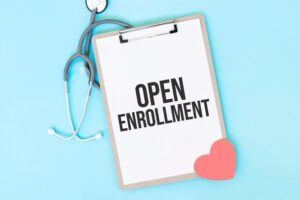 The Basics
Let's start with defining a few of those oh-so-elusive insurance terms.
– Premium: The amount you pay for a health plan in exchange for coverage. Your premium must be paid in order for your health insurance to remain active.
– Deductible: The amount you owe for a health care service before your insurance begins to pay.
– Co-Pay: A fixed amount you pay for covered health care service. Insurance providers charge co-pays frequently for services such as doctor visits and keep in mind that the price varies by plan.
– Co-Insurance: The amount/percentage you pay for certain health care services. This is typically the amount you pay after a deductible is met. (For example, if you went to the doctors and your deductible was already met, you may pay 10% of your bill while your insurance pays 90%).
– Out-of-pocket expense: The amount you pay towards the cost of healthcare. This includes co-pays, deductibles, and co-insurance. These expenses are limited in your plan.
– Primary Care Physician (PCP): A doctor which coordinates treatment under your health plan.
Understanding Health Insurance: Different Policies & Plans
It's important to understand what policies and plans are available to you and what each has to offer. Based on your age and health status, some plans might be better suited to meet your needs than others.
– One commonly offered plan is called the Preferred Provider Organization (PPO), which is a care plan that offers discounted fees for health care services and lowers copays and deductibles for services within the network. In this type of plan an insurance company covers most of the expenses of medical costs, while you are responsible for paying 10% after copay and deductible.
– Another option is the Exclusive Provider Organization (EPO), which is similar to the Preferred Provider Organization, however it ONLY covers doctors, specialists, and hospitals within the plans network.
– A High Deductible Health Plan (HDHP) is a plan with higher deductibles (remember, that means how much you pay out of pocket before insurance kicks in). HDHPs can be combined with HSAs or HRAs which can be used to pay for qualifying medical expenses.
– A Health Savings Account (HSA) is a medical savings account available to those enrolled in high deductible health plans. These types of accounts are employee owned and remain theirs even if they leave their company. The funds are also exempt from federal income tax at the time of the deposit and roll over year to year. It is important to note that the funds may only be used for medical expenses.
– A Health Reimbursement Arrangement (HRA) is an employer-owned medical savings account which employees can use as reimbursement for qualified health care expenses.
– Flexible Spending Accounts (FSA) are accounts employees can set up and use to pay out of pocket for medical expenses with tax free dollars. The account holder sets aside a pre-tax dollar amount every year to pay for medical expenses, however these types of funds can expire depending on the policy chosen by the employer.
Let's Talk Networks
An In-Network plan is one where physicians, hospitals, or health care providers who contract an insurance plan provide services to its members. People within the network tend to have more coverage with other in-network providers than those with out-of-network plans.
Something that is Out-Of-Network means that physicians, hospitals, or other health care providers do not work with an insurance plan to service its members. Expenses for services provided by out of network providers have the potential of not being covered or having less coverage than in-network providers.
Now that you've gotten a refresher on the basics – mark your calendars and get ready to feel confident choosing the right policy for you. If you're job searching, be sure to ask about these 5 benefits.