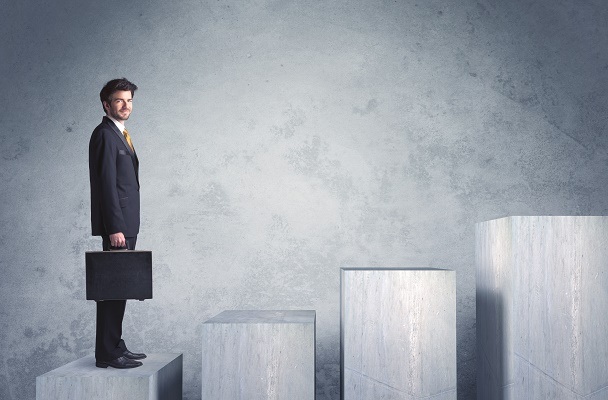 If you're a recent grad, you've probably gotten a good seven months of solid work experience under your belt. You may also be thinking about career advancement and asking yourself…
WHEN SHOULD I START LOOKING FOR A JOB AT THE NEXT LEVEL?
The answer…always. Of course there's more to that answer. You want to be sure you're able to show stability, if you're jumping around every three months you'll look like a mess. But after a solid year you should have a good understanding of working in a corporate environment. You'll be able to speak about what you've learned in specific terms and know what you're looking for in a next step.
Finding your next level job doesn't always entail a job search. It could mean making a move up at your current company.
As an entry level candidate with a modest amount of work experience on your resume, the next big step may take a while depending on a range of circumstances. How you apply to jobs is critical. That means you can't just rely on submitting to online job posts. Networking is still the best way to get a job at any level, period. So leveraging your network of friends, inquiring about openings where they work, utilizing your alumni network, going to business events and putting yourself out there are all things you should be doing.
HOW DO I KNOW I'M READY TO MOVE FORWARD?
When you're ready for a new challenge you generally know. You start getting that 'what's next' feeling in the pit of your stomach more regularly while you're at work. You check the job boards and get excited by the posts you see.
But knowing if you're a good fit isn't always that simple. Sometimes it's easier to look for anything that would rule you out…such as not having a level of experience that is close enough to what is required. If the role requires 10 years experience but you have 3, it's not a good fit. If they ask for 10 and you have 7+ then go for it. Perhaps you're in marketing but haven't worked on global initiatives and that's a must for the job, it's probably not a good fit even if the job itself seems to be a good match.
You should be reaching for the next level, but be honest with yourself and think like the employer when evaluating a position. When reading appealing job descriptions, people usually feel one of two things.
1. Completely excited because the job sounds perfect and they have at least 80% of the requisite experience.
2. They say, "I wish I had the experience to do that job." If you listen to your intuition, it's usually right.
HOW CAN I STAND OUT AND PROVE I HAVE WHAT IT TAKES?
Rather than bullet pointing responsibilities under each job on your resume, bullet your key achievements and successes. In doing so, your capabilities and the results you can achieve for a new company are clearly understood.
Jobs with the same title at different organizations are not carbon copies of each other either. Be sure you're tweaking your resume, and your bullet points, for the particular job at the specific company you're applying to.
Cover letters are also a great way to highlight your personality and are an opportunity to share information that is not easily deciphered from your resume alone.
Other innovative ways to stand out include, creating a resume website that shows off your skills and accomplishments in a fresh way. You might also consider putting together a video resume that shows off your production skills as an added value! Any chance you have to enhance your application by making it more unique, take it!