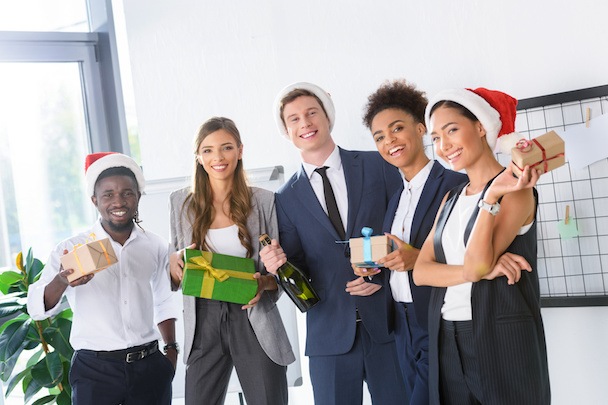 The holidays can be tricky to navigate, especially around the office. Should you give your boss a gift? What about giving to the people you manage or your teammates? Oh and don't forget about the office grab bag! We can't help you decide who to gift to, but we can help you figure out what to give. Our office holiday gift guide has a little something for everyone, and at prices that won't break the bank.
Office Holiday Gift Guide
1. Picture Frames
Even the most decorated of desks can benefit from a little more cheer. While people vary their level of personalization when it comes to their private office space, printing and framing a fun picture for the recipient is sure to be appreciated.
2. Power Banks
We've all been guilty of being on our personal devices more than we should while at the office. But that doesn't mean we're not working. Personally, I often prefer to respond to email from my phone even while sitting at my desk! It's no wonder that by the end of the day my battery is close to dead. Power banks are one of those things you can never have too many of. With many under 20 bucks, the gift of power is invaluable.
3. Poppin-Palooza
Poppin and their products are practically synonymous with haute office style. Cheery colors and quality design come together to make even the most dreaded office tasks a bit less dreary. Reasonable prices mean you can put together several items to really pack a punch. Pair colorful notepads and pens with scissors, trays and tape dispensers, for a Poppin at a pretty price.
4. Headphones
Have you ever forgotten your headphones at the office? How awful was your commute home without them? Like power banks, spare headphones are a must and we've found a must have pair. With 363 reviews, none under 5 stars on Amazon, and priced at $15.99 you can't go wrong. One reviewer even said he'd pay double!
5. Mug
Nothing is as welcoming in the morning when you arrive at the office as your cup of coffee. And everyone knows the mug you drink it out of can make all the difference. Personalize it, keep it simple or pick a theme. Etsy has a great offering to choose from. You're only issue will be being able to pick which one to get!
6. Gift Card
Nothing says "I didn't have time to look around for a gift" quite like a gift card does. But actually, there are times when they can come in real handy. Small spa treatments or a gift card from a wine merchant near your office are definitely better options than a Starbucks card.
7. Succulents
Who wouldn't welcome the cheer and peace that only plants can bring to a space? Of course being welcoming doesn't have any bearing on one's ability to care for it. Succulents provide a touch of nature and are very easy to maintain. World Market offers a set of 3 large succulents for $23.00. For those recipients for whom, placing their succulents in direct sunlight and watering sparingly will require too much effort, opt for a hassle-free mini set of 4 lifelike succulents for $15.99.
8. Fountain Pen
We do so much typing these days that hand writing anything is a lost art. But people still love pens. Here's a fountain pen with a literal twist that is a perfect fit for your right or left-handed colleagues.
9. Water Bottle
Between all the coffee drinking and holiday imbibing your colleagues will be doing, reminders to stay hydrated are sure to be welcome. Whether you're looking for something collapsible, glass, stainless or insulated, here's a list of the top bottle in every category.
Happy gifting everyone! Have any great holiday gift guide ideas? Let us know!