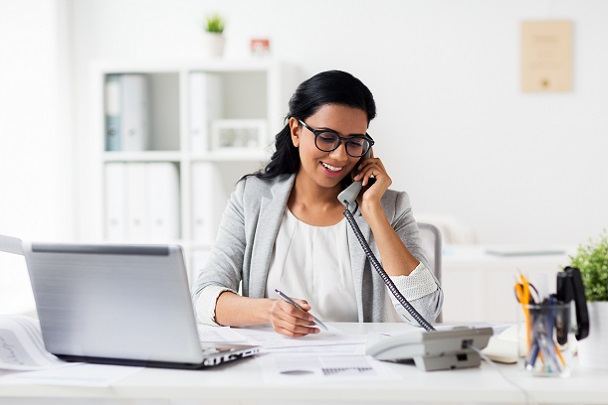 You've got a lot riding on your professional reference. Their assessment of your abilities as well as your attitude could be what gets you hired or what keeps you from the job of your dreams. Oddly enough, references are the part of the interview process we think the least about. We ask someone to be a reference, offer their name and number to the potential employer and basically hope for the best. But if you could arm your references with more information, don't you think you should?
Here's the best way to prep your professional reference so that you're set up for success.
1. Describe the job you're interviewing for:
Often we're so wrapped up in the stress of our interview process that we just tell our professional reference that we're interviewing and someone may call them. If they're lucky, they at least get the job title and the name of the company, but usually little else. It's important that your reference has a good understanding of the job you're applying for. Remember job titles can vary from company to company, as do the associated job duties.
Of course, you want to respect their time. To simplify things, once you've let them know someone may reach out, email them the job description so they can take a look at it when it's convenient for them. The person calling to perform the reference check will usually mention the type of role the candidate is being considered for and ask the professional reference if they think the candidate is a good fit. The more your reference understands the role, the better.
2. Identify key traits that are critical to the role:
Professional references confirm beliefs that have been formed about a candidate's ability to perform the job at hand. Usually, the beliefs are formed around a few central, critical traits. Some examples include a candidate's leadership skills, ability to generate revenue, or how well they can handle various projects at once. Let your professional reference know the strengths and key traits the interviewers are looking for so they can be ready to speak to your abilities in those areas. Ultimately, references are an employers way of making sure that what you've presented in the interview is in fact true! Provide your reference with the info they need to support what you've presented in specific terms.
3. Remind them of your key accomplishments:
If you have a relatively long work history, it's possible it's been several years since you and your professional reference worked together. Your reference may remember how great you were but not all of your accomplishments. It's okay to remind them of projects you were particularly proud of and that had a positive and significant impact on the organization.
4. Make your motivations known:
In many cases, the one thing a professional reference doesn't know about you is your motivation. That is, why you want the job and what you want to accomplish. Or why the company is a great fit for you in terms of the company's values aligning with yours. Let your reference know how much you want the role. If they can communicate that you're a fit beyond your skills, the job is practically yours.
It's crushing to know that an employer checked your references but ended up going with another candidate. At the very least, it should make you question the strength of your reference. That's not to say your reference didn't say great things about you. They may have even said they'd hire you again in a heartbeat. There's no higher compliment than that. But somehow it can still fall flat. It surely communicates how well you did in your old job. However, it fails to tell an employer much about how you'll do in this new role. You've worked so hard to get to this point in the interview process that references may seem like a place where you can take a breather. But in reality, you need to stay in control as you keep pushing yourself to cross the finish line. Arming your professional reference with as much information as you can is how you do that.