In today's competitive job market, just landing an interview is an accomplishment in itself. How you present your story and how well you communicate your experiences, however, is what will differentiate you from other equally-qualified candidates. We've put together some of our most valuable tips to help you take the right steps before, during, and after a job interview to maximize your chance of landing the job.

Interview Prep:
1. Print out the job description of the position you are interviewing for. Next to each of the responsibilities, jot down specific examples of how you've performed each task. You won't necessarily have to recite each one, but you never know which expectations of the role (and your experience) are going to be discussed.
2. On your resume next to each job, list the following:
*Skills you developed in the position
*What you loved most about it
*A successful project you completed that you're most proud
*A difficult project or near miss that you'd love another shot at
3. Make note of why you transitioned from one job to the next. More money is not a good enough reason, so highlight a skill you were hoping to gain or enhance through the new role.
4. Have at least 3 questions prepared to ask the interviewer about the role and their company. Be sure to ask questions that can help you learn more about the position, make you look informed and give you a better idea of where you stand with the interviewer. Here are some questions you could consider asking:
*What is the biggest challenge that someone in this role will face?
*What are the primary goals you would want this person to accomplish in the next 6 months to a year?
*Do you have any reservations about my background or ability to do this job well that I can address or further clarify?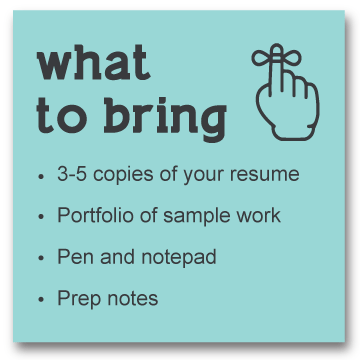 5. List one major reason why you want to work for the company, aside from the actual position itself. This job fits within a very specific organization, with its own identity and culture. Hiring managers want to recruit people who aren't just "capable" of doing the job, but who really want to work for the organization. Do enough research about the company to be able to answer the question, "Why do you want to work here?"
Be Prepared to Answer These Questions:
1. What are your strengths?
2. What are your weaknesses?
3. Where do you see yourself in 5 years? 10 years?
4. Why are you looking for a new job?
5. Why are you interested in working for [insert company name here]?
6. Why was there a gap in your employment between [insert date] and [insert date]?
7. What can you offer us that someone else can not?
8. What are three things your former manager would like you to improve on?
9. Tell me about an accomplishment you are most proud of.
10. Tell me about a time you made a mistake.
11. How did you hear about this position?
12. What would you look to accomplish in the first 30 days/60 days/90 days on the job?
13. Describe yourself.
14. Tell me how you handled a difficult situation.
15. Why should we hire you?
16. How would you deal with an angry or irate customer?
17. Give a time when you went above and beyond the requirements for a project.
18. Who are our competitors?
19. What motivates you?
20. How do you handle pressure?
21. What are your career goals?
22. What would your direct reports say about you?
23. What are some of your leadership experiences?
24. What do you like the most and least about working in this industry?
25. What questions do you have for me?

A Proper Thank You
A follow-up letter is more than a courtesy, it's imperative. Before you shake hands and say goodbye, be sure to request the interviewer's business card so that you have their correct contact information. When writing your thank you letter, here are a few points to consider:
Don't Use Filler Words: Keep the conversation specific and professional. Brevity is key, so don't fill your letter with fluff.
Every Interviewer Gets a Note: Each person you meet with should receive an individual note that includes something unique from your conversation.
Email or Hand-Written: Depending on the hiring pace, a hand-written thank you might not arrive until the position has been filled. In most industries, a well-crafted email version is more than appropriate. If you are adamant about sending a hand-written note, send both.
The Greeting: Many candidates will use "Hi Mr. XXX or Mrs. XXX" as their intro. You wouldn't call your boss Mr. or Mrs., so address the interviewer by their first name. Also, "Hi" is too casual. so always start with "Dear XXX…."
Atrium's Complete Interview Prep Guide