The COVID-19 pandemic has changed most aspects of everyday life. And the future of the modern workplace is one area that has seen the biggest change. Whether you are searching for a new job as a result of the pandemic, a recent college grad or returning to the workforce after an extended leave, it is important to evaluate the benefits offered by your potential employer when seeking a new opportunity.
Ask about these 5 benefits when searching for a new job: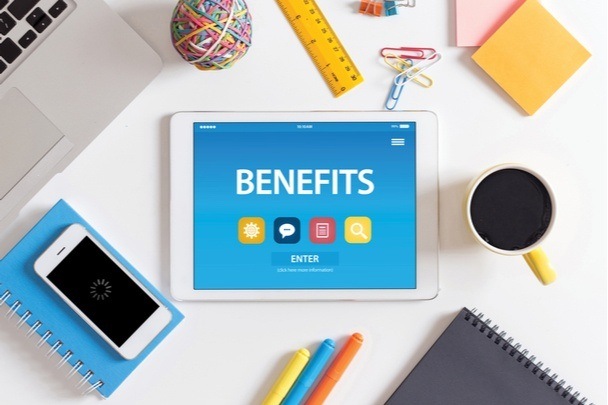 1. Health Insurance
Health insurance is a top benefit to look for in a salaried position. In our current environment, it is perhaps more important than ever. With potential long-term health implications and so many other unknowns remaining amid the Coronavirus pandemic, it is important to make sure that you have some kind of coverage set in place. Purchasing it privately or through the marketplace can be quite expensive. It's often better to have health insurance through your workplace because the company contributes a portion of the costs.
Most employers are required to offer some kind of coverage. So, depending on the organization, you might have multiple options to choose from. For example, there could be options for plans that have a higher deductible or a lower deductible. Or, you could choose between a PPO or an HMO plan. Ask about the options for family or spousal coverage. It is important to do your research ahead of time when searching for a job to determine the best coverage for your specific needs.
2. Flexible Scheduling
While many workplaces have been offering flexible working schedules and/or remote work, the COVID-19 pandemic is advancing this trend at a rapid pace. Many businesses have no choice but to be flexible due to constantly changing regulations and information about the virus. Between travel restrictions in some states, online schooling and other up-in-the-air circumstances, it is important to have some level of flexibility in your next job.
Some companies are offering four-day work weeks or the option to work partially or fully from home. It's important to understand that some businesses may only plan provide flexibility for a limited time period. This is why you should ask for the specifics. Will you be expected to return to a more rigid schedule and work from an office post COVID-19? Seeing how the organization is responding to the needs its employees during this time can give you a better idea of how they handle adverse situations and offer support. Checking on this benefit with your potential employer could change your mind about the role and the company long-term.
3. Life Insurance
Some companies offer a life insurance policy for their employees as an additional benefit. This coverage is usually for a set amount of money and covers you for your time of employment at the organization. The policy is usually at a low cost or free as a part of your overall benefits package. By supplementing your income if you were to pass away unexpectedly, a life insurance policy can give you a safety net for your family.
If you have family that depends on your income to make payments on monthly obligations make sure to understand what financial support would be needed in your absence. Experts recommend carrying a policy about seven to ten times your annual salary. This means that if the only policy you carry is through your employer and does not cover this amount, then it could be beneficial to find a private life insurance policy that fulfills your needs.
4. Disability Insurance
Similar to life insurance, disability insurance provides added financial security if you were to be injured or have a severe illness (outside of the workplace). If your injury or illness impacts your ability to work, this policy can help you support yourself and/or your family. There are two main types of disability insurance—  short-term and long-term disability insurance.
Short-term disability provides immediate coverage (usually a few months), whereas long-term disability provides coverage for years following your injury or illness. Some companies offer one or both of these types of coverage. Be sure to know what the options are from your potential employer when looking for a job. With the widespread onset of Coronavirus, job seekers should keep this benefit top of mind when evaluating new opportunities.
5. 401(k) Plan
When looking for a new job, make sure to ask about the retirement savings options available at the company. As you already know, the cost of retirement is extremely high. And as that cost continues to rise, saving earlier rather than later is extremely important. Pension plans are not nearly as common as they used to be. You have to find other ways to save for retirement.
401(k) plans are a good way to start saving for your retirement. You can contribute directly from your paycheck before taxes are taken out. Be sure to ask your potential employer if they match contributions. Many companies pay a certain percentage of what you invest to incentivize employees to save. This is essentially free money from your organization towards your retirement. And that's a huge perk! A solid savings plan can offer some peace of mind amidst the economic uncertainty as a result of the pandemic.
Employer-sponsored benefits are extremely important when determining whether or not to accept a position at a company. In fact, some even say that the benefits offered at a company can be more important than the actual salary itself. In the current landscape, having a safety net is extremely important to support your long-term plans, so make sure to ask about these benefits when searching for a new job.
By Guest Contributor: Lisa Phelps
We'd love to consider adding your content. Share your job searching story and tips with us by emailing CareerColumn@AtriumStaff.com.