The world feels pretty bleak right now. A global pandemic is changing everything rapidly. I imagine history teachers in a hundred years saying, "The people of Earth didn't know it then, but the COVID-19 pandemic caused _____." Also, this history teacher is a robot…on Mars. My mind is going to some bizarre places because the world is going through unprecedented times. It's kind of like a concept outside of a science fiction movie. In the wake of the Coronavirus crisis, there is some unexpected good news. Here are 3 pieces of positive news to brighten and lighten your days.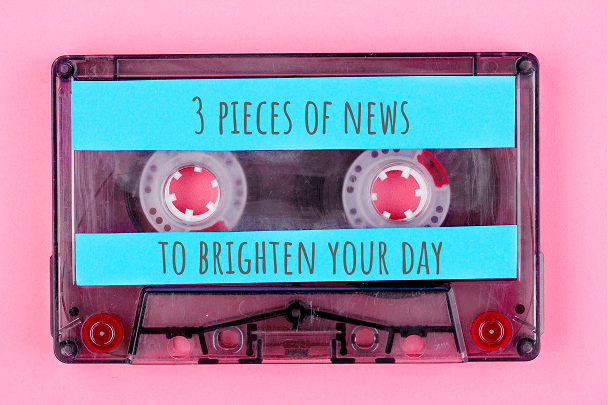 The Environment is Thanking Us
While social-distancing and self-isolation can be challenging for us humans, the environment is taking it very well. Many factories are closed. There are fewer cars are on the road. As a result, carbon emissions in China have gone down by 100 million metric tons. That's nearly the same as what Chile emits in an entire year. China's energy usage has gone down by 25% in a two week period. It could lead to an overall drop of 1% in the country's yearly carbon emissions.
Italy is also experiencing reduced air pollution. Between the beginning of the year and March 12th, Italy's greenhouse gas emissions are declining. In fact, Northern Italy is experiencing the cleanest air quality it has had in years. Due to the lack of tourist traffic, the canals in Venice even look cleaner  (though there haven't been any dolphins in the canals, as some have claimed).
A little closer to home, the CO2 levels in New York are less than half of what they usually are in March. While these changes may not last, they do shed some light on how much of a negative impact human activity has on the environment and climate change. Along with that comes the knowledge that we could have a starkly positive impact on the environment. Now that's some overwhelmingly unexpected good news! Who knows, maybe if we put the necessary policies in place, we can overcome climate change altogether.
Celebrities are Actually Helping
While some celebrities are singing songs and doing magic tricks on Instagram, others are donating real money to real causes to aid in relief efforts. Celebrities such as Rhianna, Justin Bieber, Bong Joon-Ho, and Kelly Ripa and Mark Consuelos among many others are donating to charities related to the virus. Kristen Bell and Dax Shepherd donated $150,007.96 to No Kid Hungry, an organization working to end child hunger in America. That might seem like a weirdly specific amount of money, but the additional $7.96 came from their kids, who contributed their piggy bank savings to the donation, which is adorable.
More celebrities are helping in other ways. Christian Siriano's design team volunteered to make protective masks for healthcare workers in NYC. Miley Cyrus, Rita Ora, and Lady Gaga are all teaming up with companies to design products, which will donate portions of their profits to helpful causes.
Many part-time and hourly workers are experiencing unemployment during this time. Some professional athletes are helping pay the salaries of out-of-work arena employees. The owners of many NBA and NHL teams are also developing payment plans for the arena employees who are integral to their games. Each of the thirty MLB teams has pledged $1 million each to support ballpark employees. Additionally, athletes such as Simone Biles, Michael Phelps, Steph Curry, and David Ortiz have all donated memorabilia to Athletes for COVID-19 Relief. These items are being raffled off with proceeds benefiting the Center for Disease Philanthropy's response fund.
We're Getting Creative with Technology
The advent of social distancing has forced us all to use technology in new and unique ways. Many businesses are having their employees work remotely and students are taking online classes to finish out their semesters. It feels like we're all becoming experts in Zoom and live social media platforms. Comedians, musicians, and performers are streaming their shows (some even have virtual tip jars that you can use to support the artists). Yoga teachers are teaching classes virtually. And, digital dance parties are getting us all on our feet! Professional soccer players are playing FIFA while their games are on hiatus. Yo-Yo Ma is posting daily cello performances. Broadway stars such as Laura Benanti and Lin-Manuel Miranda have invited high school students whose musicals have been canceled to send video performances their way, promising to watch.
To add to the list of unexpected, good news, we are finding new ways to have fun. From chatting with friends all over the country to play-dates via video chat, we are seizing the moment to connect with loved ones for a good time. There are varying degrees, but all are very positive. While teachers are digitally conducting music classes and drawing lessons, I am beating my friends at a virtual game of Quiplash! As this continues, people will get more creative and find solutions to address both personal challenges and the future of work.
Another unexpected positive? We're all going through this together. No one is in this alone. As a human race, we are totally connected for the first time in my lifetime. Maybe this feeling of unity will stay after the pandemic has passed. It is so easy to get overwhelmed and bogged down by the horrible parts of this new reality. But, humans are adaptable, kind, forgiving and resilient. We have made it through other unthinkable moments in history including moments our grandparents and great-grandparents thought they may never recover from. They did, though. And so will we. In the meantime, let's continue to grow good news.