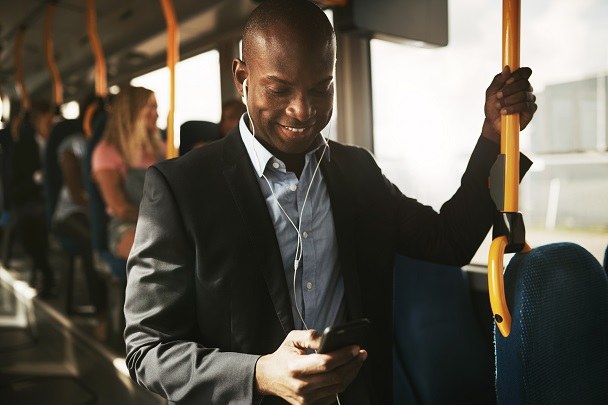 Commuting used to be seen as wasted time. But thanks to podcasts, you can develop your interests in several categories while getting around town. Whether you're interested in personal development, entrepreneurship, or just want to be entertained, there's no shortage of content. Your biggest frustration now isn't that you're wasting time on your commute, but that you don't have enough time to listen to everything on your list. Here are our staff picks for the best podcasts for your commute:
1. How I Built This:
This podcast is a must for those dreaming of turning a side hustle into a full time career. Don't just wonder how your favorite moguls did it, learn what it took to build an empire. If you need a dose of motivation to make your professional dream of owning your own business a reality, look no further. NPR's Guy Raz asks all the questions you want answers to. Listen here.
2. Left Right Center:
Looking to up your understanding of the chaos that is current day American politics? This political podcast examines the issues from all sides, so you're sure to be well-informed. Form your own opinions once you've analyzed topics from all angles. Listen here.
3. Working:
Wishing you were commuting to a different job? Slate's Working podcast explores what American's actually do for work. It gets into the nitty gritty of some of the most interesting and unusual jobs around. Find a new career path or a renewed appreciation for the one you have! Listen here.
4. This American Life:
Ira Glass and his guests explore interesting and often very personal vignettes that highlight humorous and relatable experiences in life. Search for stories that pique your interest here.
5. Tiny Leaps Big Changes:
Tiny Leaps Big Changes was listed by the Chopra Center as one of six podcasts to listen to for personal growth. It's all about offering information in an easy to digest way. If put to practice, the advice about the tiny changes you can make in your life can ultimately have a big impact. Start making tiny changes here.
6. Adam Ruins Everything:
Interested in learning something new in a way that's totally approachable and entertaining? Adam Ruins Everything is the podcast for you. While those used to his TV format may miss the shorter form, this podcast is worth the adjustment. Tackling topics from taxes to antibiotics, you're sure to walk away with new insights and laugh while doing so. Listen here.
7. The Producer's Guide:
Todd Gardner takes his more than two decades of experience as a Hollywood producer to the airwaves. You don't have to be a cinephile to enjoy his discussions with the industry's A-listers. But if movie making has ever crossed your mind, this is a must. Listen here.
With these seven podcasts for your commute, your ride just got a lot more enjoyable… and so did your cocktail conversations! If podcasts aren't for you, try an audiobook. Of course, if you're taking public transit, the good old fashioned paper kind will do. Consider these popular books to increase your productivity these top 5 books to boost your creativity.