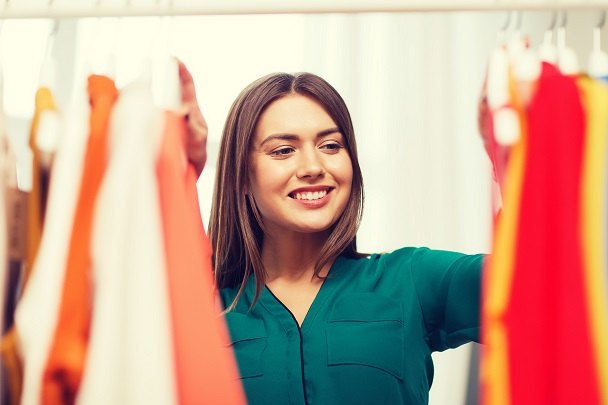 Summer is a tricky time of year to interview. While it's filled with lots of benefits, it can be difficult to properly plan your job interview attire while still dressing for the season. We've taken all the guesswork out of it by offering these job interview attire guidelines to follow:
Know Your Length:
Some women look and feel better in shorter styles. Some women feel more confident when their gams are covered. Whatever your preference, maintain professionalism. Hopefully it goes without saying that it's never a good idea to go shorter than just above your knees. Likewise, you'll want to keep long dresses (or skirts) from sweeping the floor. Not to mention, very long hemlines are prone to getting heels caught in them!
Put a Wrap on Straps:
Spaghetti strap tops, while prevalent on summer dresses, are too reminiscent of lingerie. Unless you plan to keep your shoulders covered by a jacket or blazer, it's never a good idea to wear spaghetti strap tops to an interview. Halter or off the shoulder tops are also best left for non-professional occasions. While it can be tempting to show your shoulders, even straps that are equal to or wider than your bra strap may not offer enough coverage. Use your best judgement, but a sleeveless dress that still covers your shoulder or a cap sleeve shirt are great options.
Know Your Fabric:
There may be an abundance of linen dresses this season, but keep in mind that you'll walk out of the interview with more wrinkles than when you arrived. Linen is best to avoid, particularly when interviewing in a more corporate setting.
Natural silk or cotton blends usually hold up best. While synthetic fibers may be more easily cared for and don't have wrinkle issues, they don't breath well, allowing odor to get trapped. So, if it's really hot out and you're likely to break a sweat on your way, stick with natural fabrics.
Prints and Bold Colors:
Who doesn't love a good print? But prints have their place and usually, it's not in an interview setting. Prints and bold colors are eye catching for sure, but that also means they have the ability to distract. Don't be upstaged by your clothing. An interview is your time to shine. If you absolutely must wear a pattern, try to keep it to the bottom half of your outfit so that when you're sitting, it's not as noticeable. Or wear a solid blazer over a dress to mute the visual impact of the pattern.
Accessories:
Again, keep it simple. Avoid big rings, flashy necklaces and over-the-top makeup. Why? Visual distraction is often followed by mental distraction. You want the interviewer to focus on you and what you have to say, not something you're wearing.
Shoes:
There's nothing wrong with wearing a peep-toe or open-toed shoe to an interview. Sandals, clogs and the like however are best left out of your interview attire arsenal. Additionally, any shoe that doesn't secure itself to your heel, like mules, should be kept in the closet. Certainly you want to be comfortable, so investing in a pair of shoes you can walk around in and wear to interviews is advisable.
Atrium Picks
My vote for the best interview dress of the season: 
No jacket required with this Banana Republic Boucle Sheath Dress. It's the perfect length, offers shoulder coverage while still being modern and stylish. It also offers a tailored fit but has a softer, more creative side because of the boucle fabric. Wear it to all office environments without feeling too "corporate."
My vote for the best skirt and shirt combination:
Nothing says "I'm ready to start" like a crisp white shirt paired with a pencil skirt. Don't just take my word for it. This No.2 Pencil Skirt is a J.Crew best seller. As shown in brilliant peony, you'll walk in to your interview like a fresh summer breeze. Or make the look more sophisticated with a solid dark colored skirt. Recreate this simple clean look with a pair of pants.
Naturally, rules are made to be broken. You want to make sure you feel good in what you're wearing and that it helps you feel confident in your interview. The most important thing to keep in mind, regardless of your job interview attire choices, is the quality and fit of each piece. The simplest of outfits can make you look and feel like a million bucks because of those two factors. Trust me, others will be sure to notice too!