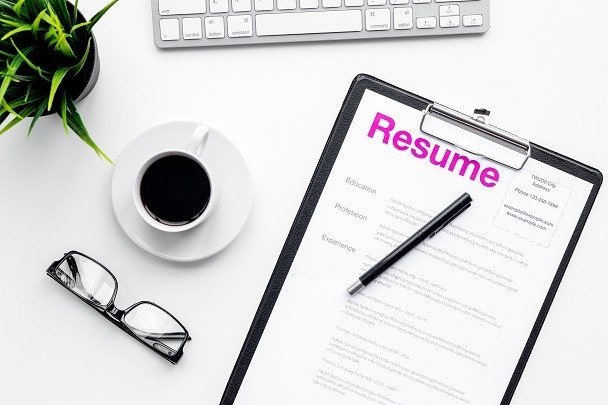 Resumes. I know, those seven letters are capable of creating more overwhelm than should be allowed. But resumes are still the best way to communicate your abilities to an employer. Once you know how to write your resume, you'll wonder why you stressed. We're going to take it slow and break it down section by section. The result will be your ultimate guide to writing a resume.
HOW TO WRITE A RESUME: THE HEADER
Your header section includes your name and contact info. Pretty basic, right? Not so fast- there are common mistakes here that can prevent you from making your way into the "yes" pile.
1. Your Email Server
Believe it or not, your email address can give away a lot. Are you using a Hotmail or AOL address? Those usually give away the fact that you probably have more work experience than what's actually listed on your resume. The only people who have AOL accounts are those who were old enough to have been emailing at, what might seem to many younger generations, the dawn of time. Opt for an @gmail.com email address instead.
2. Your Email Handle
There was a time when it might have been considered funny to have an email address that raised eyebrows. Handles that indicate you may be best suited for other professions, or those that include favorite hobbies like dancewithme@aol.com are not considered professional and have no business on your resume. If you don't already have a basic gmail address containing just your name and possibly a number after it if needed, you should get one asap. If you are forced to use a number after your name because it's already taken, don't use your birth year. Pick a number that couldn't possibly be confused with your birth year or try adding your location, like NYC after your name instead.
3. Your Email Address is Your Address
It's important for prospective employers to understand where you are located when making a hiring decision. The area code in your phone number should be enough of an indication. However, if you've moved and kept your old telephone number, you can easily just list the city and state you live in. Where you actually live (meaning street address and possibly apartment number) is no one's business but your own!
4. Other things to Include
A hyperlink to your LinkedIn profile can also be a part of your resume header. You'll want to be sure though that your profile is consistent with the professional experience you've shared on your resume. If it conflicts, it's best to leave it off so you are represented in the same way you have presented. If you are a creative candidate, you'll definitely want to include a link to your online portfolio or a video reel in this section.
5. Your Telephone Number
Don't make the mistake of not mentioning your phone number. Make contacting you as easy as possible. Your potential employer shouldn't have to search for your contact information within your creative portfolio link or contact you through LinkedIn. Proofread your contact information, and then read it again. It would be a shame if the employer called you only to find out they dialed a number that's not in service.
HOW TO WRITE A RESUME: PROFESSIONAL SUMMARY AND SKILLS
1. Wind-up and Pitch
This section used to be known as your objective statement- it's where you list what you're looking for and an opportunity to pitch yourself. Consider this akin to the LinkedIn Summary section. You want to give a brief  overview of your career and highlight key aspects of your experience as it relates to the open role you are seeking. For example, an opening statement might read something like, "Executive Management professional with over 1o years leading high performing sales teams." It could then go on to say, "exceptionally skilled in client negotiation, developing new business leads and mentoring junior staff."  Everything mentioned in this summary should be something the job description specifically listed as being desirable in a candidate.
2. Your Skill Set
Under your summary you'll want to allow for some space to list the skills that are most important to be considered a good match for the opportunity. Spend time understanding your potential employer brand and the qualities you possess that make you a great candidate for the position. Your list should in a bullet format. If you target six points within your list,  you can evenly distribute them in a 3 x 2 table.
HOW TO WRITE A RESUME: WORK EXPERIENCE
1. Basic things to know
Your work history section doesn't have to list every job you've had since completing school. Unless you have years and years of experience, you'll want to keep your resume to one page if possible. Depending on how many jobs you've had, you should be able to show about 10 years of experience on one page. If you are more senior in your career, you can have a two page resume, but you really shouldn't go beyond that. As a more senior applicant, it's okay to only list your last 10-15 years of work. If you've been in a director role for some time,  there's no reason to include your early years as an Executive Assistant.
2. Company Name and Dates
List the company name on the left side and all the way to the right on the same line list the dates of employment. On the next line write your job title. If you've held several positions at the same organization, then on the same line as the company name be sure to include the dates of employment from your starting date to the present. To the right of each job title, list the dates you held the position.
Some people like to include a company description under the company name. This is only necessary if the company name is not well known or if it's not clear what kind of company it is. Often though, it just takes up valuable space that you could be using to add more information relevant to your skill set.
3. Bullet Points
The bullet points listed under each job should give the reader an idea of what your job entailed. A common mistake candidates make is to make every bullet correspond to a different job duty making each bullet begin with phrases like, "responsible for." Try challenging yourself with not using that phrase at all when you write your bullet points.
Your bullets should do two things. First, you want to use active verbs that communicate a more dynamic vision and understanding of your role to the employers. Words like created, initiated, championed and directed are all great examples. You might want to consider this list of action verbs when you're ready.
Second, you want to be sure your bullets  inform the employer of the outcome of your work. If you're not sure how to do that, ask yourself "so what?" after every bullet point. Then, examine your responses. For example, "Created a long term marketing plan for the launch of a new division." could translate to "SO WHAT?" You created it for a reason, and it meant something to the organization. What was the outcome? Did it increase revenue? That's a pretty big deal. By how much? That could be an even bigger deal! Include your so what to quantify and qualify your achievements.
The more specific you can be about the impact and positive outcome your work created, the more impressive you'll be as a candidate.
HOW TO WRITE A RESUME: EDUCATION
1. List Degrees Sequentially
You don't need to include any high school information in this section. You will however want to list your highest degree first. So if you have a masters, or doctorate you'll list that degree first and then your undergrad degree below it.
2. Don't Give Away Your Age
It's important to keep in mind that you don't at all need to list the year you obtained the degree. You don't need to give away your age if that's a concern. Just list the type of degree you earned. If you didn't complete your degree you can list courses of interest under the school name or if you're still in process of obtaining your degree you can list the expected date of graduation.
3. Certifications Count
This is also a great place to include certifications you've gotten such as a Project Management certification or an HR Certification. Even certifications like first-aid and CPR could prove valuable to potential employers.
HOW TO WRITE A RESUME: TEMPLATES
We wouldn't leave you hanging. Check out these resume templates, and CV templates, that will make creating a beautifully formatted resume a breeze!